13 September 2018
Hurricane Florence could kill 'a lot of people'
By BBC
Hurricane Florence, which is nearing the US East Coast, could kill "a lot of people", officials warn.
The Federal Emergency Management Agency (Fema) says storm surges could bring catastrophic flooding to inland areas.
Nearly 1.7m people along the coastlines of North Carolina, South Carolina and Virginia have been ordered to evacuate.
Strong winds and heavy rains have already begun lashing North Carolina's coastline, leading to some early flooding.
Some 11,000 power outages had already been reported in the state. Reuters news agency reports.
Florence is projected to make landfall on Friday at 08:00 local time (12:00 GMT).
And though it has been downgraded to a category two storm with 105mph (165km/h) winds, Fema administrator Brock Long said it remained "very dangerous".
He has warned that storm surges could cause "feet of rain not inches" of rainfall in the Carolinas and Virginia.
Why isn't the downgraded storm less of a threat?
Mr Long told Thursday morning's news conference that while Florence's wind speed had dipped, its wind field had expanded and total rainfall predictions were unchanged.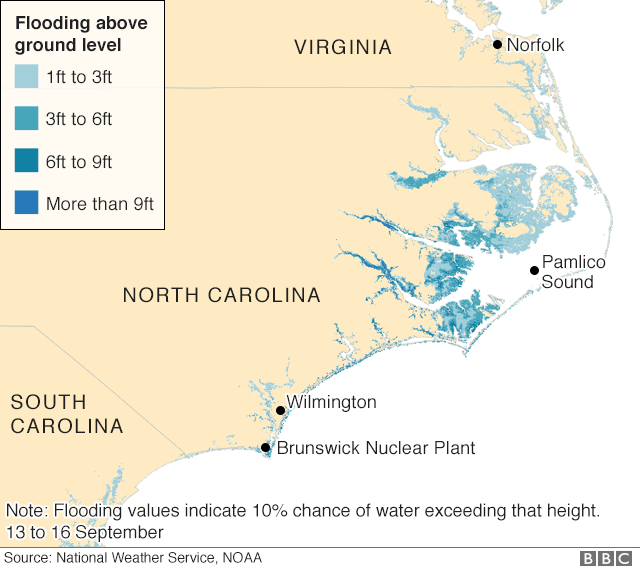 Floodwaters may rise up to 13ft (4m) as rivers see their flows "reversed", meteorologists have warned.
"So this is a very dangerous storm," said Mr Long. "Inland flooding kills a lot of people unfortunately and that's what we're about to see."
"Your time is running out," he warned those who had not yet heeded the warning to evacuate. "The ocean is going to start rising."